Grove Tent Set Up Process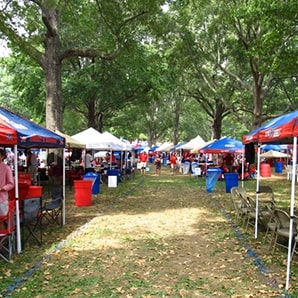 The Ole Miss Grove Tailgating experience is one of the most outstanding in all of college football. It has been called "The Holy Grail of Tailgating" and is located at the center of the Ole Miss campus. It is a place where the women impress and the men dress sharp. Old friends rendezvous and new friends are made. It's eight acres of all that is still good in the south. The experience of spending a day tailgating in the Ole Miss Grove will last a lifetime.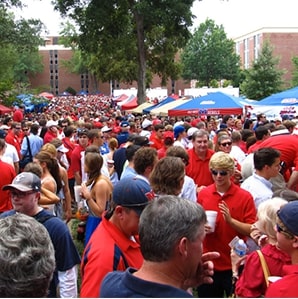 Friday's Grove Tent Setup is the official start of the Ole Miss tailgating weekend and is a tradition unlike any other in the land. 7:00pm hits, the horn blows, and the stampede begins as crowds rush to claim their spot for tailgating in the Grove. This is where you would benefit from an experienced Grove tailgate management company. Within an hour, the Grove becomes full of tents, tables, TVs, chairs, and even chandeliers. Almost every square inch of the Grove on game day Saturdays is jam-packed canopy tent to tent. Our tailgating services team at The University of Mississippi works past midnight to make sure your Grove tent setup is exactly the way you want it.


Tailgating Services at Ole Miss
Every time we tailgate in the Ole Miss Grove we get Tailgate Group to set us up. This past season our Grove tent setup was right near the stage! This was perfect because our daughter loves to watch the Ole Miss cheerleaders and Band before the game. Highly recommend this company to all my Ole Miss people!
- Ryne Graham, Jackson, MS
An Ole Miss Grove Experience
Tailgate Group met all of our families Ole Miss Grove expectations, and we are extremely thankful! We used them for 2 home football games and we highly pleased with the professional service that was provided. Grove tailgating at Ole Miss truly an experience that last a lifetime. We will be back!
- Jack Calhoon, Oxford, MS
Best Tailgate Services at Ole Miss
All of our Grove tailgating equipment we rented from Tailgate Group was of the upmost quality and the location of Grove tent setup was perfect. We couldn't have asked for anything more! Next time we tailgate at Ole Miss again, we will be renting from Tailgate Group.
- Josh Marlae, Canton, MS
Ole Miss Grove Tailgating Services
We booked Tailgate Group's Ole Miss Tailgating Services for the 2021 season and had an amazing time. The communication was great from start to finish, the professionalism was always present, and the attention to detail was elite. On gameday, we showed up to a Grove tent location right on Brewer Lane and Willis Way, our Oxford friends were impressed! We look forward to next season in the Grove!
- Steve Ridgeway, Oxford, MS
My Grove Tent Setup Company!
In 2011 we visited Oxford, Mississippi for the Ole Miss/Georgia football game. Colton setup our Grove equipment and did an exceptional job! We had a 10 x 10 red and blue tent with a chandelier! We were set up right near the Walk of Champions and our two boys got to high-five the football players as they walked through the Grove. I would highly recommend them to anybody looking for a professionally run company at Ole Miss.
- Betsy Barnes, Durham, NC
Hassle-Free Grove Tailgating Services
We were set up for the Ole Miss/Texas game in 2012. It was such an amazing experience that weekend and we couldn't have had a better time. Ole Miss Grove tailgating is a blast! We were set up right next to our friends' Grove tent and were able to party with them all Saturday. Great company, I refer all my friends to use their Grove tailgating services. Good company and even better customer service!
- Bonner Hankins, Tupelo, MS
The "Grove Set Up"
Includes 1 Tent, 1 Table, 1 Cooler, 9 Chairs, and 5 Tailgate Group Coozies. Tents are 10 feet x 10 feet. We also offer the option to add tailgating equipment to your Grove Set Up, including TVs, chandeliers, and much more!
Tailgating Services at Ole Miss
Our Approved Ole Miss Tailgate Vendor Membership allows us to offer an unrivaled Grove tailgating service to clients. With the Tailgate Group you will "Grove" in the best areas, in style, comfort, and with high quality Grove equipment. Enjoy your Oxford, Mississippi weekend and let our experienced Grove tent setup company take care of your tailgating services at The University of Mississippi.
The Game Plan
Below are our tips and pointers to ensuring your Ole Miss gameday experience is seamless.